Law Office of Maridith E. Ramsey, PLLC
It's not just business. It's personal.
Maridith Ramsey spent the first five years of her legal career with a large personal injury law firm. She quickly advanced and was soon advocating for victims and managing mass tort litigations including defective medical device and defective drug cases.
Maridith subsequently practiced with a boutique Seattle law firm where she honed her trial skills and managed a robust and complicated litigation practice. Maridith took cases to trial with successful results in all matters where she served as Lead Trial Attorney, from in-person to Zoom trials.
Nearly a decade of legal experience and the trial results to prove it.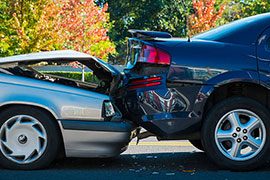 In 2020, there were 86,252 car crashes in Washington State, including 526 fatalities and tens of thousands of injuries.
The number one cause of crashes continues to be distracted driving. If you have been injured as a result of another person's negligence, you may be entitled to compensation. An attorney can help.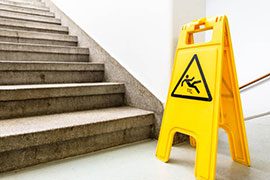 According to the National Floor Safety Institute, falls account for approximately 20% of all hospital ER visits, with slip and fall incidents representing about 12% of total falls. 
Injuries sustained in falls are also the leading cause of time missed from work. Twenty-two percent of those falls can cause an individual to miss more than 31 days of work.
If someone else was responsible for causing you to slip, fall, and sustain injuries, you may want to speak with an attorney. 
Dogs are increasingly more common members of the family in U.S. households. 
While the people most likely to be victim of dog attacks are children, there are adults in certain occupations who may be more likely than others to become a victim of a dog attack: 
U.S. Postal Workers
Landscapers
Meter Readers
Food/other delivery drivers
Dog attacks can result in serious, permanent injuries. 
If you have been the victim of a dog attack requiring medical attention, you may want to seek the help of an attorney.
A Johns Hopkins study concluded that the third-leading cause of death is medical error and account for at least 250,000 deaths in the U.S. annually – that's 9.5% of all deaths each year. This includes medication dosage errors, misdiagnoses,  healthcare system mistakes, poor judgment, lack of skill, surgical errors, too few or underutilized safety net protocols, among other issues. 
Medical errors resulting in serious injury rather than death are likely a much higher figure. These claims can be difficult and expensive to prove and almost always require attorney involvement. 
If you or a loved one have been injured as a result of medical error, please call for a consultation.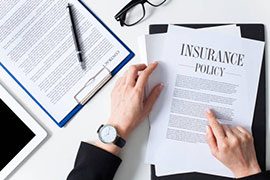 When you buy an insurance policy, your insurer is contractually obligated to treat you in a fair manner. When an insurer acts unreasonably or fails to treat you fairly, you may have a claim that entitles you to damages for the harm the unreasonable conduct has caused.
These claims are well-defended by insurers. However, when pursued by a competent attorney, they serve as an essential and important check on insurance companies. These claims are so important, in fact, that the law allows harmed insureds to collect up to 3x their damages.
If your insurer has denied a claim for benefits or treated you unfairly, you may want to consider speaking with a lawyer.
LOOKING FOR A RELIABLE, DEDICATED, TALENTED ATTORNEY?
Personal injury claims are complex. When you're injured, your focus needs to be on your recovery, not paperwork. Personal injury lawyers know that proving your case requires gathering the right evidence. A lawyer can collect that evidence for you. Examples include medical records and bills, accident reports, photographs, insurance information, and eyewitness statements. A personal injury attorney can do all of the legwork so that you can focus on healing.
Insurance claims adjusters are trained in specific tactics intended to deny or limit the amount of compensation you may receive. A skilled attorney knows these strategies and can fight back to ensure that you are not strong-armed into accepting less than fair compensation
Personal injury claims can be compromised, and even destroyed, by even small missteps. A lawyer can protect you from these missteps to ensure that your claim is organized and placed in the right light.
Experienced attorneys have the benefit of settling many cases, researching jury verdicts, and connecting with other attorneys to understand case value. A savvy attorney will also recognize when it may be necessary to bring an expert into your case to better understand or explain an accident or specific injury. This kind of know-how tells insurance companies that you mean business, making them more likely to treat you fairly.
Most personal injury attorneys take cases on a contingency basis. That means that you pay no legal fees unless the lawyer obtains a settlement on your behalf.  Most importantly, you don't have to worry about upfront costs of the case while you're also contending with other expenses like medical bills or time missed from work. The lawyer assumes the risk of the case with you and advances costs necessary to achieve a successful result. That means that you're both interested in the best possible result for you.
Maridith is hardworking, professional and honest. Do not hesitate to contact her.
Maridith assisted with my personal injury matter. She went to bat for me and the results of my claim far surpassed my expectations. Maridith kept me well informed throughout the entire process and did not give up when things got tough. I cannot thank her enough for her work.
Maridith and [paralegal] were such a great help to me. They kept me informed & up to date as to what was happening in my case. I cannot thank them enough. I am happy that it is all over and behind me.
I was bitten by my neighbor's dog and ended up in the hospital (while working out of town) with a blood infection. I had no idea how many bills would roll in after the fact. They handled everything and made sure I was compensated fairly for my medical bills, time off work and trauma I sustained. The team was amazing!
Maridith, [paralegal] and [legal assistant] were an amazing team. They were professional, responsive and caring. Hiring them was the best decision. They worked tirelessly on my behalf.
Our attorney, Maridith, was amazing through the entire process - totally down to earth & easy to relate to, a great listener, resourceful, determined & seriously funny. She's an excellent negotiator & we were very pleased with our case outcome. Communication was clear & consistent - we knew what was going on & what would happen next. Despite her being a busy attorney, she always had time for us & our questions. Our paralegal was also excellent as well in keeping us apprised & our case organized. We highly recommend working with [her]!
[Paralegal] and Maridith are the best. They were excellent at communicating during my case. They replied to emails and phone calls promptly. They both went above and beyond my expectations. They helped comfort me during my time of need.
The staff were extremely professional and kind every time I visited. They made sure I understood everything that was going on and at several key points advised me when I had to speak to insurers regarding my personal injury claim. Shout out in particular to [paralegal] and also Maridith, for their work.
Maridith represented me and she fought hard for my case. [Paralegal] was my paralegal and bless her heart putting up with my neurotic and anxious craziness. She was reassuring and always calmed me down when the insurance pulled some crazy bs. Which was often. I would recommend this law firm to anyone in need. They are truly awesome people who care about their clients.
Maridith & [Paralegal] were amazing and really easy to work with! I hope no one has to go through a car accident and all the pain and suffering associated with one, but if you do have the unfortunate experience - hire [them]! You won't be disappointed!
Helpful, professional and kept me informed each step of the way.
Recovered cost for clients
You can't resolve your claim twice. Be sure it's handled right.
Let us help you!